Department of


Internal Medicine II
Representative:
Professor

Hiroshi Mukae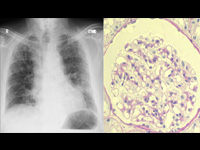 Outline
Second Department of Internal Medicine includes the division of respiratory medicine, infectious diseases, and kidney diseases.

・Division of Respiratory Medicine and Infectious Diseases
The most important task for us is to improve the prognosis/QOL of patients who are suffering from respiratory/infectious diseases. We manage patients with correct diagnosis and evidence-based treatments. We are working on not only clinical practices, but also clinical, translational and basic researches about respiratory/systemic infectious diseases, interstitial pneumonias, chronic obstructive pulmonary disease, bronchial asthma, and lung cancer. Several staffs contribute the clinical guidelines in Japan for cough, pneumonia in adults, deep-seated mycosis, and idiopathic interstitial pneumonias.

・Division of Nephrology
Our main missions are to improve the health of patients with kidney disease, inspire interest in the prevention of disease, provide compassionate care, and educate future leaders. We are working on medical care, research and education toward a goal to "go higher."
【Clinical】
We are working on clarifying etiologies and finding the treatments for various kidney diseases, such as glomerular diseases, electrolyte imbalance, acid-base disorders, secondary hypertension, acute kidney injury, chronic renal failure, and the management of patients who underwent kidney transplantation. The nephrologist is needed both primary and specialty medical care.
【Research】
Our basic and clinical research efforts focus on fibrosis, epigenetics and inflammation. We are also trying to identify and establish novel biomarker for diagnosis to clinical settings in nephrology.
【Education】
Our important task is to educate future leaders who can have research mind and face the management of various kidney diseases and non-renal related medical care to patients undergoing dialysis, providing with comprehensive care.