Department of


Pathology II
Representative:
Professor

Junya Fukuoka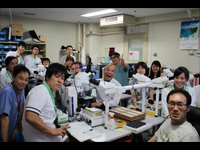 Outline
In our department, "final diagnosis" is done for tissues and cells submitted from clinical department. In addition, we always diagnose quickly the resected site during surgery and judge whether there is a tumor or not. We also do autopsy to elucidate the cause of death.

For many diseases especially in almost all cancer cases, medical treatment is based on our diagnosis. So we support medical care at university hospitals.

In order to make a pathological diagnosis that has a big influence on a patient without mistake, we have introduced a system that carries out for diagnosis in a group called "sign-out session". In this session the diagnosis is not done by a pathologist alone. In addition, we regularly offer study sessions, conference with clinicians and constantly update diagnosis so that we can provide state-of-the-art medical care and make optimum diagnosis at that time.

On the education side, we also focus on student education. They not only present themselves at international conferences but also write papers and make an impact reporting to the world. We are putting our emphasis on producing talent who can play roles at front line.

We are aiming at a global department, so we are always discussing with research institutes in the world. We constantly make efforts to be a world-leading department not only in molecular pathology but also in Artificial Intelligence (AI).