Department of


Plastic and Reconstructive Surgery
Representative:
Professor

Katsumi Tanaka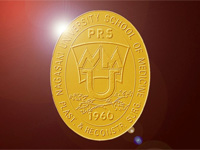 Outline
The Department of Plastic & Reconstructive Surgery in the Nagasaki Univ. Sch. of Med. (PRS Nagasaki), which is one of the most historical departments in Japan, is committed to offering our patients with the highest quality of care.
PRS Nagasaki has assembled a truly talented team of academic surgeons, with generalists who provide a broad range of reconstructive services including hand surgery, burn reconstruction, skin tumor, wound healing and so on, especially in microvascular surgeons who specialize in breast and head & neck reconstructions, craniofacial surgeons who specialize in pediatric plastic and orthognathic surgeries. Our surgeons can provide the Goal of your Life in the full spectrum of reconstructive and aesthetic plastic surgery. In research fields, PRS Nagasaki has focused on the wound healing and etiology of scar formation including keroid and the scarless healing.
Our Plastic Surgery Residency Program has also trained over a handred surgeons in the art and science of reconstructive plastic surgery. Our sub-specialty fellowships have provided residents with further training in hand surgery, craniofacial surgery and microvascular reconstruction both basic and clinical science.